La Roche Buissière
Faucon, Côte du Rhône, France
Certified Organic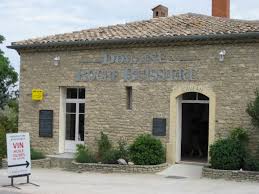 Whether you are into "natural wine" or not, La Roche Buissière's results make for delicious drinking. They are located north of Vaison- La-Romaine, in-between Provence and the foothills of the Alps; their 18 hectares vineyards are planted with Grenache, Syrah, Cinsault and Mourvedre. They are between 300 and 450 metres above sea level, which provides them with the freshness of the hills and the sun of the South. The soils are calcareous clay of varied texture: marl, sand or silt. This diversity is a valuable asset, bringing originality and complexity to the wines.
During vinification they use natural yeasts; they don't filter or fine, preferring to allow the wine to settle naturally; at no stage is sulphur used. These natural practices provide a true expression of terroir within each vintage.
We are grateful to Brendon Keys (BK Wines) for introducing us to La Roche Buissière. Back from his recent French jaunt …"dude – their (LRB) wines are awesome, so primary and powerful, delicate and balanced, they punch way above their appellation". I don't always write down what BK says but I do listen.